English Sounds Fun
English Sounds Fun is an innovative method
designed by specialists that teaches learners how to
– read
– write
– communicate in English
– develop all skills necessary for learning
It is accessible to all learners, including those with specific learning differences (SpLDs) like dyslexia and AD(H)D.
Students who complete all three books (Ready, Steady, Go) in the programme achieve competence at A1 and A2
(Common European Framework of Reference).
About English Sounds Fun
How can ESF be all these things at once?
It has been created by a team of people which includes dyslexic and non-dyslexic people, English language teachers and dyslexia specialists, people whose strengths are in logical, linear planning, as well as people who excel at creative design programme which – above all – is fun and motivating for learners to follow.
Ready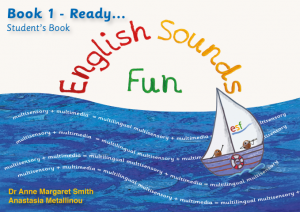 In book 1 "Ready" students will:
Recognise and produce the sounds of English
Match the sounds to letters
Read and write new words and sentences
Create their own sentences
Learn to learn (memory, organisation, study skills, self-esteem)
Steady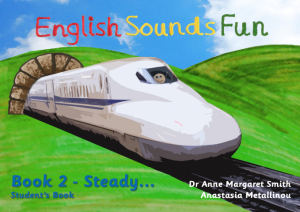 In Book 2 "Steady" students will:
Meet more advanced spelling patterns
Develop their range of vocabulary and grammatical structures
Communicate meaningfully and confidently with others (both orally and in written form)
Work independently on projects
Develop self-awareness through reflection and evaluation.
Go!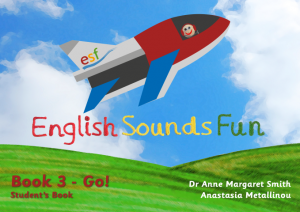 In Book 3 "Go" students will:
Develop speaking, listening, reading and writing skills
Tackle more extended texts and develop the strategies to do that
Develop autonomy in studying
Increase confidence communicating in English and feel ready to move on to senior classes.
ESF is different from other programmes in several ways:
ESF focuses closely on the relationships between the sounds of English and the letters used to write them
BUT
learners are encouraged to learn the many common irregular words by sight, and helped to develop memory skills to do so.
---
Learners access multisensory practice through the use of multimedia materials
AS WELL AS
a lot of physical, tactile activities to help learners remember the letter-sound relationships they have met.
---
The course is highly structured
AND
flexible enough to use with learners aged 8+
---
I love your book – in a time when the market is full of hastily-produced junk designed to make a quick profit and then churn out more unprincipled junk, your book not only fills a so-called gap in the so-called market but is based on a coherent set of principles – it is obviously a labour of love – for children and education- and is based on research. It looks marvelous and so attractive to use. It is not only an excellent option for dyslexic children but learners with a diverse range of learning difficulties and even learners with no difficulties because of its imaginative use of colour, shapes and practical activities aimed specifically at very young absolute beginners.

Dr Luke Prodromou (ELT author, trainer and actor)
More information about English Sounds Fun
Specifically designed for students with Specific Learning Differences such as dyslexia who are learning English as Foreign Language.